Bear Mountain Information
In 1958, "Noboribetsu Bear Park" was established due to the sense of crisis that brown bears would be extinct due to the extinction policy.
Since 1989, the protection policy has been changed, and the environment surrounding brownomas has also changed. Over the past 50 years, we have cultivated the ecological know-how of brown plants, and we have continued to have the same love and passion.
It is this achievement and passion that supports Toyosaho Sahoro Resort "Bear Mountain". Based on 50 years of know-how, we will strive to make everyone enjoy it even more.

Experience the powerful brown bear and Hokkaido! !!
---
Brown bears are endangered
The Taisetsu Mountains and Hidaka Mountains, including Mt. Sahoro, are also habitats for brown bears, but the number is declining, and the Hokkaido version of Red is found in the Red Data Book of the Ministry of the Environment in the western part of Ishikari (Mashike / Keiba area). In addition to this, the data book states that the population in the Tianshio / Mashike area is "Endangered Area Population (LP)".

It is also mentioned in the Washington Convention (Convention on International Trade in Endangered Species of Wild Fauna and Flora) and is recognized as an internationally valuable species. Let's think together not to exterminate the ezo brown man in the wild.

---
Three clauses that coexist with brown bears (to avoid encountering them)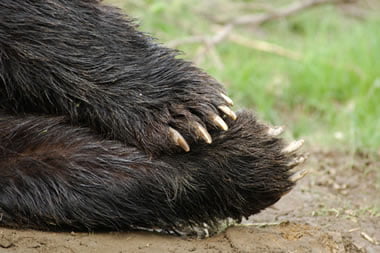 I can't enter the mountain alone
Make a sound to let you know your existence (bell, whistle, radio, etc.)
Never bring trash home (a bear that learns the taste of human food becomes a bad bear that approaches people)